SISTERS
Pernille Koldbech Fich 2002-2004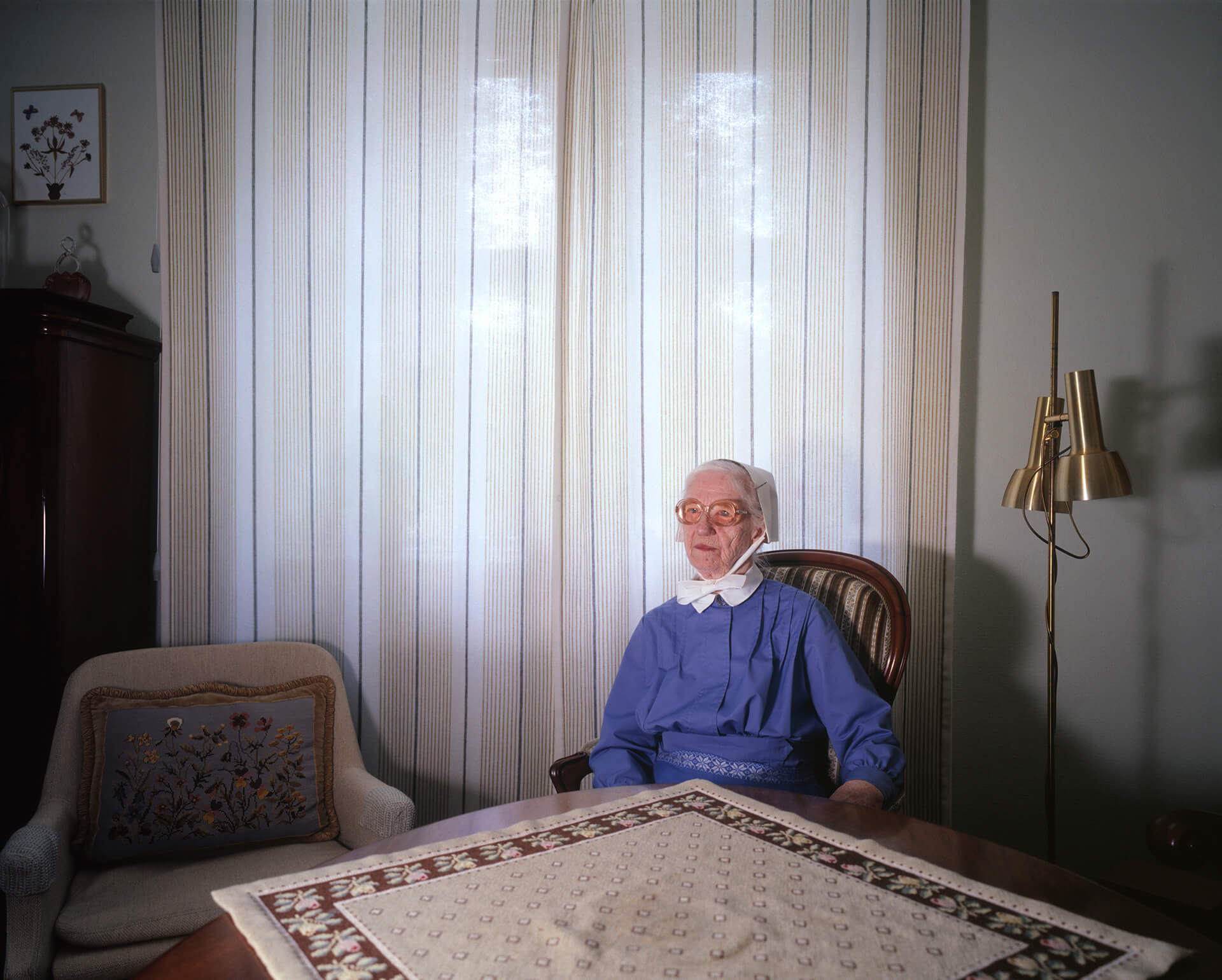 SØSTRE – en introduktion
"Søstre" er en række fotografiske portrætter af ældre diakonisser på Sankt Lukas Stiftelsen i København. Rammen om fotografierne er diakonissernes private stuer, og dermed åbnes der op for et møde med mennesket bag det definerede fællesskab og den opofrende levevis, som søstrene er kendt for.
Pernille Koldbech Fich fokuserer på skellet mellem det kollektive og det individuelle, og fotografierne tematiserer en gensidig afhængighed mellem disse to kategorier. Scenen er søstrenes egne gemakker, men overordnet set er det private rum indfanget i et offentligt, selve stiftelsen, og det enkelte individ fremvises i en kollektiv klædedragt. Det bliver dermed umuligt at fastholde grænsen mellem institutionens ramme og individets rum. Portrætterne er både præsentationer af individer og repræsentationer af institutionen, og fotografierne føjer disse to bevægelser sammen til én.
SISTERS – An Introduction
"Sisters" is a series of photographic portraits of elderly deaconesses at the St. Luke's Foundation in Copenhagen. The framework for the photographs is the deacons' private living rooms, and thus opens up a meeting with the person behind the defined community and the sacrificial way of life for which the sisters are known.
Pernille Koldbech Fich focuses on the divide between the collective and the individual, and the photographs thematize an interdependence between these two categories. The stage is the sisters' own chambers, but overall, the private space is captured in a public, the foundation itself, and the individual is displayed in a collective costume. It thus becomes impossible to maintain the boundary between the framework of the institution and the space of the individual. The portraits are both presentations of individuals and representations of the institution, and the photographs add these two movements together into one.